http://www.slate.com/id/2148197
What a Moronic Presidential Press Conference!
It's clear Bush doesn't understand Iraq, or Lebanon, or Gaza, or …
Posted Tuesday, Aug. 22, 2006, at 5:48 PM ET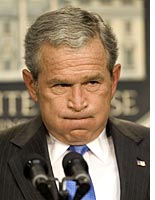 George W. Bush at a press conference
Among the many flabbergasting answers that President Bush gave at his press conference on Monday, this one—about Democrats who propose pulling out of Iraq—triggered the steepest jaw drop: "I would never question the patriotism of somebody who disagrees with me. This has nothing to do with patriotism. It has everything to do with understanding the world in which we live."